Nearly 20% of web is built using WordPress platform. Powered by PHP and mySQL, the WordPress software is an open source content management system (CMS) that is being used by nearly 78 million websites websites in the world with up to 150,000 new WordPress powered websites being added every day.
Why Choose WordPress for your Website?
WordPress is now default digital publishing tool for many major media companies. People are using it for everything from simple website to feature-rich complex portals or enterprise websites.
Free and Open Source – WordPress is available free to use, modify and distribute.
Simplicity - WordPress combines ease of use with nearly unlimited customization allowing website owners to create all sorts of websites such as business sites, job portals, classified ads, personal
Free Themes - There are thousands of free themes available from WordPress theme directory in addition to thousands of commercial themes from hundreds of independent WordPress developers.
Free Plugins - There are some 25,000+ free and paid plugins available that allows easy enhancement of WordPress functionality and user experience. For example a Ad-Injection plugin makes it simple to include ads from various ad-networks like Google-Adword, ClickBank, DoubleClick and more, without requiring to write a single like of code.
Built-in Software Upgrade – It comes with built-in single click software updating capability that allows periodic software updates just a snap.
Built-in Spam control - It comes with a free and very powerful spam filtering plugin called Akismet that keeps the website free of spam comments, completely effortlessly.
Highly Scalable - WordPress is highly scalable in nature allowing users to create a simple personal website or create a feature-rich mega content site / portal that can includes millions of pages.
Publishing Tools - WordPress allows easy to manage contents including creation, drafts, and even schedule publication. You can even make your content public or private, and even secure posts and pages with a password.
SEO Friendly - With free plugins like WordPress SEO, Addthis and Facebook services, WordPress offers great out-of-box search engine optimization and social media optimization.
Built-in Comments – Comments provide space for visitors to engage with site's contents. WordPress even allows comment moderation for better control.
WordPress Notable WebSites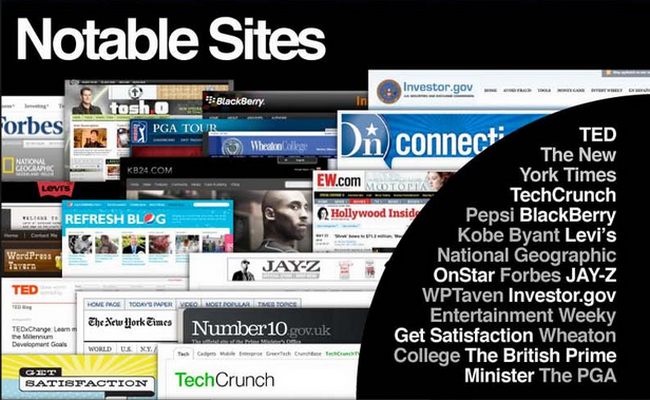 Our WordPress Website Services
We have required experience to deliver simple, neat and clean WordPress website for your professional or personal needs.
Our WordPress web design includes following features:
Installing and configuring WordPress software
Securing the installation from hacking and spam
Customised Website Design front-end using customized theme
Install and configure required plugins and addons for desired website goals
Install and integrate latest Javascript / jQuery modules to render latest and trending content effects like sliders and animations.
Our WordPress Website Maintenance Services
If you already have a WordPress website that requires redesigning or features upgrade we have required experience and expertise to most economically help you realize your website goals.
Our WordPress website maintenance service offers:
Customize a new theme for your updated requirements
Install and integrate latest plugins to enhance your website functionality, usability or user experience.
Install and integrate latest Javascript / jQuery modules to render latest and trending content effects like sliders and animations.
General Quote
Please fill this form to enable us quickly provide you our cost estimates for your WordPress website designing or maintenance requirements