What is a Search Engine Optimization?
Search Engine Optimiation is a technique to promoting a website on major search engines. A properly Search Engine Optimizated (SEO) webiste is a critical element of any Internet business because a website properly optimized for search engines will rank high, which brings it to the first page of a potential customer's search results.
There are many aspects to SEO such as including few carefully researched keywords which are most relevant to a website, getting links from other similar sites and optimizing several meta tags which would help search engines clearly understand the website contents and index well.
We aim to systamatically address all areas of SEO - from discovery of the terms and phrases (keywords) that generate traffic, optimize site contents around high traffic keywords to making a site search engine friendly, and building the internal and external links.
Why Search Engine Optimization necessary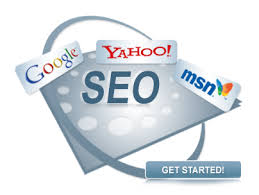 The core goal of Search Engine Optimization is making your website easy and clear to search engines and users alike. Search engines are becoming increasingly smart, but they need a lot of help to properly crawl the website and return better results. The good SEO would help the search engine clearly userstand the purpose of a web page to help provide your users more useful and relevant results.
The words that users type into the search box at major search engines, carry extraordinary value. Search engine traffic can make (or break) an organization's success.
Targeted visitors to a website can provide revenue and exposure like no other channel of marketing. Investing in SEO can earn you an exceptional rate of return compared to other types of marketing and promotion.
Most importantly, SEO helps boosting rankings of a website enabling search engine users find it more readily. As Internet is become increasingly competitive, search engine optimized websites will have most decided advantage in targeted visitors and customers.
Benefits of Search Engine Optimiation
Search Engines are used 500 million times a day. Nearly 250 million searches are performed per day on Google alone.
80% of users use search engine to find sites
Users give a 2-4 word query
Most users click only on the first few results
Few users go below the fold (Whatever is visible without scrolling down)
Far fewer ask for the next 10 results
A properly SEO site would bring increased targeted visitors to your site
A top ranking of your site would draw consistant traffic to your website
Saves you a huge cost of not having to buy traffic using pay per click marketing model
Being higher or top on the search engine listing would boost your brand and credibility
Conversion rate from organic ranking is almost double in comparison to paid listing. And its also free!
Over 85% users clicks organic search engine results compared to only 15% for paid ads.
Our SEO Process
The Search Engine Optimization process is complicated and it requires fine tuning of our SEO strategies on continuous basis. All major search engines like Google, Bing and Yahoo continuously update their ranking algorithms based on hundreds of factors. We as a professional and seasoned search engine optimization company are constantly updating our SEO strategies in tune with the latest search engine markers.
The SEO is normally done to entire site but can also be done as effectively to few selective specially designed pages with an aim to gain higher ranking and attracting more traffic to the site via these pages.
Since SEO is an ongoing process, we would need full access to either whole site or selective pages (provided or created by us) via FTP for the entire period of optimiation process.
The keywords required for the SEO process would be mix of discovered high traffic keywords and desired keywords provided by you.
Our Search Engines Optimization Program will include :
An in depth study of your website, target visitors, industry and competition.
Determination of the search engine friendliness of your site and location of any blocks.
The detailed research into and selection of relevant keywords and key phrases for your business.
Optimization of your pages using appropriate keywords.
Creation of Search engine friendly site map and optimizing text based navigation of the site
Incoming / one-way or reciprocal linking building (Articles etc)
Submissions of optimized pages by hand to the top search engines & directories
Ranking reports and tweaking if necessary after optimization of the site
Pre and post optimization evaluation of site with details of ranking and visibility.
Search Engine Optimization Plans
SEO Services - General Quote
Please fill this form to enable us quickly provide you our cost estimates for your site SEO requirements